Return to summary
Third Thursday Volunteer Attorney Orientation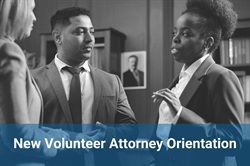 Date:
April 18, 2023 12 - 1 PM
Type:
Virtual
Issues:
Migrant Rights
This session is for newly registered volunteer attorneys who haven't been assigned a case yet. Register below to receive the Zoom link.
Haven't signed up as a volunteer attorney yet? Start here if you are interested in providing legal support to The Advocates' clients.