Return to summary
No Fair: We're Staying Away from the Minnesota State Fair This Year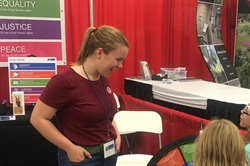 Date:
August 26, 2021
Each year The Advocates for Human Rights engages Minnesotans at the Minnesota State Fair. Seventy-two volunteers connect with more than 12,000 visitors to play the Human Rights Quiz Wheel and learn about human rights in our state.
Because of the increased risks associated with the COVID-19 Delta variant, we can't be at the Fair this year.
Thanks to everyone for your support of human rights in Minnesota. Read the open letter by the Minnesota Council on Disability about it's decision to not participate this year.
You can still buy a shirt! Get your new State Fair-edition t-shirt at Bonfire.