Return to summary
Angels Unawares on view at The Basilica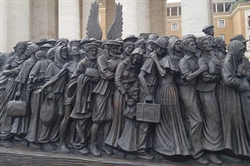 Date:
August 11, 2021 5:30 pm - 7:00 pm
Type:
In Person
Issues:
Asylum
,
Migrant Rights
Join us Wednesday, August 11, 5:30pm, for an informal tour of the powerful sculpture "Angels Unawares" currently on view at the Basilica of Saint Mary, at the corner of Hennepin Ave. and N. 17th Street in Minneapolis, Minnesota.
Enjoy a guided walk around the piece, which depicts more than 140 migrants and refugees from all cultural and racial backgrounds as well as different historic periods of time together on a raft. Then gather inside for light refreshments, Q&A, and mingling among our volunteers, staff, interns, and board members.
Angels Unawares by Canadian artist Timothy Schmalz remain on view throughout August.
Even though many of us do not see ourselves as migrants, humans seem to have migration in our blood. Over many millennia, our ancestors migrated from the cradle of humanity in the horn of Africa to every corner of the world. Today, millions of humans are on the move. Sometimes migrations happen as people are looking for adventure, are driven by curiosity, or are responding to opportunity. Sometimes migrations happen as people flee war, persecution, hunger, and certain death. Sometimes migrations happen by force as people are removed from their homelands or sold into slavery.