Return to summary
At 12 Years Old, He Lost His Family; As an Adult, He Gained Asylum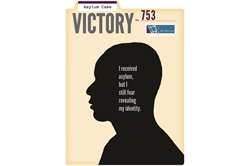 Date:
January 23, 2014
Type:
Profile
Issues:
Asylum
,
Legal Representation
,
Migrant Rights
The Liberian civil war began when Mr. H was just an infant. His family fled to a neighboring country to escape escalating violence. Then, after rebels abducted his father, Mr. H never saw him again.
Years later when the war died down, the family returned to Liberia, and his mother took a job with the new government's finance ministry. When civil war re-erupted in 2002, his mother, opposed to the conflict, refused to sign a check authorizing then-President Charles Taylor to purchase weapons for the war.
Angered, Taylor sent armed men to the home of Mr. H's family. Mr. H, then 12, remembers startling awake to a gunshot and being forced into the pantry, where he stayed hiding. Hours later his aunt arrived and found him. His mother and older siblings had been murdered. His aunt, who planned to care for him, was killed the next day by a stray bullet.
On his own, he made his way with other refugees to Senegal, where he scraped by for several years on meager assistance from aid agencies. In 2008, the Senegalese government demolished the school for refugee children where he lived. The school's director, who lived in America, helped arrange for him to come to the United States in 2009, but abandoned him soon after he arrived. Homeless and without immigration documents, Mr. H contacted The Advocates for Human Rights.
After a hearing on his case in November 2011, the judge denied his claim. With assistance of The Advocates attorney, Emily Good, and student attorneys from the University of Minnesota Law School's Immigration & Human Rights Clinic, he appealed his case to the Board of Immigration Appeals. Four years after he first applied for asylum, the board reversed the immigration judge's decision. He was granted asylum in April 2013.