Return to summary
The Advocates Celebrates Decision to Restore Asylum Protections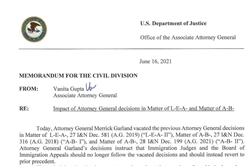 Date:
June 17, 2021
Document:
Dedicated Docket Press Release
Country:
United States of America
Type:
Press Release
Issues:
Asylum
,
Migrant Rights
The Advocates for Human Rights celebrates yesterday's announcement that the U.S. Department of Justice will vacate several Trump-era immigration rulings that gutted asylum protections for thousands. Earlier this year, The Advocates joined 357 groups in a letter urging the AG to vacate Matter of A-B-, Matter of L-E-A-, and Matter of A-C-A-A- to ensure people are not unlawfully returned to countries in which they will face persecution in violation of our international treaty obligations. "After six months of the administration's failure to address these illegal and harmful decisions, this is a welcome move that we hope signals a more proactive approach by President Biden to fulfill his promises on human rights and immigration in the U.S." said Deputy Director Michele Garnett McKenzie.
The decisions being vacated, Matter of A-B- and Matter of L-E-A-, were a key part of the previous administration's campaign to dismantle asylum protections. Then-Attorney General Jeff Sessions referred the cases to himself in a move to deny protection for people escaping gender-based violence, gang brutality, and other human rights violations. As a result of those decisions, many people, including some of The Advocates' clients, were unlawfully deported to face harms.
Attorney General Garland's actions to vacate the cases affirm that the U.S. will uphold long-standing law and practice that forbids judges from prejudging cases involving gender- and gang-related violence, and instead provide each asylum seeker a fair opportunity to present their claims. The United Nations, the United States, and our partners abroad have long held that fear of persecution on these grounds merits asylum.
"This announcement will restore some fairness to the asylum process and save lives. Yet, much more must be done to ensure that the United States leads on human rights protections. We urge the Biden administration to continue these efforts by developing regulations and policies that follow UN Guidelines and international standards on asylum, women's rights, and more," said Garnett McKenzie.