Return to summary
Scott Smith: 2021 Volunteer Award Recipient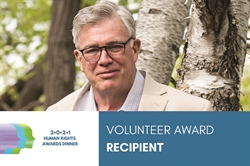 Date:
June 17, 2021
Country:
United States of America
Type:
Profile
Scott Smith has over 40 years of experience as a trial lawyer. In 2016, Scott joined The Advocates as a volunteer attorney and began representing clients by doing what he knows best: telling their stories. Over the years, Scott has given a voice to immigration detainees and labor trafficking victims by telling their stories and helping them navigate the complex U.S. immigration system. He works alongside interpreters, court observers, social service workers, and others to secure justice and freedom for The Advocates' clients.
Scott shared with us the impact that legal representation has on the lives of migrants and how volunteer attorneys like him provide hope. He recalls a labor trafficking case where he represented a 15-year-old boy from Mexico. Scott explained that the boy "was enticed by a family member living in Minnesota to immigrate north and work where 'money fell like leaves from a tree,'" The boy came to Minnesota and soon after arriving, the family member put him to work in a factory under horrific and exploitative conditions. He was imprisoned in their house while the family member kept all the money he earned. The Advocates and Scott took on the complex case and after two years the client was granted a T-Visa. "The case was denied at first and had to be re-filed. Without a lawyer, the client would have not known how to navigate this and would have lost his case," commented Smith.
Scott not only provides high quality legal representation, but he also goes above and beyond to support our clients holistically. He has coordinated with the Minnesota Freedom Fund to help detained clients post bond and return to their families and jobs. He has taken on a civil case impacting a trafficking survivor client and secured medical evaluation and treatment for another detained client. Moreover, Scott is also mentoring other pro bono lawyers and has been instrumental in training and supporting new volunteer attorneys.
His dedication to justice goes beyond the courtroom. Scott advocates and seeks to correct the anti-immigrant narrative in our society. "One of the misimpressions that a lot of people have is that if someone is undocumented in the U.S., they are a detriment to our society," said Scott. "They don't realize that a lot of immigrants contribute immensely to our society. They pay taxes, they work, their children attend school. They are part of our communities." Scott believes in his ability to change minds with stories from his volunteer work. "One of the things I can do as an advocate," explained Scott, "is speak up and educate others. Work to correct preexisting negative attitudes and erase misconceptions about the value immigrants bring to this country."
Scott gives a voice to the voiceless. He guides and supports other volunteers as they take on pro bono cases at The Advocates for Human Rights. He speaks up against the anti-immigrant narrative in our society and educates others to correct negative biases. With his zealous advocacy and contributions to human rights, he inspires all of us. It is with great honor that we present a 2021 Volunteer Award to Scott Smith.
Please join us on Thursday, June 24 for the Human Rights Awards Dinner to celebrate Scott and all of our 2021 award recipients. RSVP on our website to receive access information.