Return to summary
The Advocates Calls on President to Uphold Human Rights in Afghanistan Withdrawal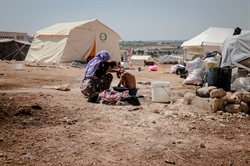 Date:
August 24, 2021
Country:
Afghanistan
Type:
Press Release
Issues:
Accountability 
,
Asylum
,
Crimes Against Humanity, Genocide, War Crimes
,
Migrant Rights
FOR IMMEDIATE RELEASE

Media Contact: Michele Garnett McKenzie, mmckenzie@advrights.org

(Minneapolis, August 24, 2021) The Advocates for Human Rights calls on the Biden administration to uphold the United States' commitment to human rights as it evacuates people from Afghanistan. The United States can-and must-ensure that people most at risk of harm are brought to safety. "The administration appears to be sticking to arbitrary deadlines which will leave thousands in danger," Executive Director Robin Phillips said. "While we understand that the volatile conditions unfolded quickly, the scramble to evacuate suggests a failure to prioritize human rights protections while negotiating and planning for the U.S. troop withdrawal."?
The Advocates for Human Rights is particularly concerned that women's human rights defenders and others will be left behind. As the Special Inspector General for Afghanistan's Reconstruction noted in its February 2021 report, "the Taliban's oppression of women was one justification for U.S. military action against the Taliban." Yet, absent from evacuation and protection plans being cobbled together is any provision for protecting those women and girls who, emboldened by promises that the Taliban would be kept at bay, stood up for their rights to education, employment, expression, and movement. "We must not abandon those Afghans we once supported as advocates for human rights," said Phillips.
President Biden has promised to return the United States to global human rights leadership. We cannot do so by violating the right to seek protection from persecution, torture, and other human rights violations. This means immediately: ensuring the Special Immigrant Visa program will allow U.S. allies to enter the United States; lifting the annual refugee resettlement cap and ensuring the U.S. Refugee Program is equipped to expeditiously resettle people forced to flee Afghanistan; dedicating resources and removing barriers to asylum and other complimentary protections so that Afghan nationals in or arriving at the United States are not returned to human rights violations; designating Afghanistan for Temporary Protected Status; and ensuring that women's human rights defenders are included in protection priorities.