Sarah Brenes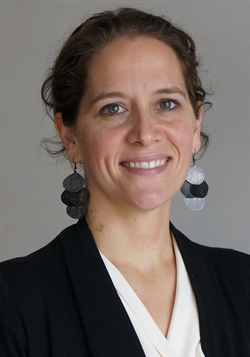 Groups:
Staff
Programs:
Refugee and Immigrant
Sarah Brenes represents refugees seeking asylum, detainees, and people with various immigration issues. She leads efforts to recruit attorneys to volunteer for The Advocates for Human Rights' to represent refugees and immigrants. She also leads training and support for the volunteer attorneys.
Prior to joining The Advocates, Brenes was a clinical law fellow at the University of St. Thomas School of Law. She taught and supervised students in the Immigration Law Practice Group, representing clients seeking asylum, family reunification benefits, and visas of victims of trafficking and violent crimes. She supervised students representing clients detained in immigration custody during their initial hearings before the immigration judge as part of the Minnesota Detention Project.
Brenes has experience working with nonprofit organizations and private immigration firms serving immigrant clients, including the Migrant Unit of Southern Minnesota Regional Legal Services in North Dakota and Minnesota, and the Immigrant Law Center of Minnesota through a clerkship sponsored by the Minnesota Justice Foundation. She also clerked at Centro Legal, Inc. as an Equal Justice Works Summer Corps Program Fellow.
Brenes is admitted to practice before Minnesota state and federal courts and before the Eighth Circuit Court of Appeals. She has served on the Immigration Council and the Legal Assistance for the Disadvantaged Committee of the Minnesota State Bar Association. She currently co-chairs the 5th Grade Essay Contest Committee of the American Immigration Lawyers Association.
Brenes received her J.D. from the University of St. Thomas School of Law where she was awarded the John R. Roach Fellowship for pursuit of a career in public interest. Sarah has a master's degree in human rights and peace education from the National University in Costa Rica. She graduated with honors and earned her bachelor's degree in international affairs from the George Washington University.
Publications

The Bind with Immigration Bonds," Hennepin Lawyer, Vol. 82, No. 5 (May 2012)
"Lawyer as Counselor: Know the Signs and When to Look for Help While Working with Clients with Mental Health Needs," Minnesota State Bar Association, Hearsay, Vol. VIII, No. 3 (Spring/Summer 2011)
"Mental Health Professionals and Affirmative Applications for Immigration Benefits: A Critical Review of Administrative Appeals Office Cases Involving Extreme Hardship and Mental Harm," Immigration Briefings, April 2011. Written by Virgil Wiebe and Sarah Brenes