Return to summary
Lesson Plan: What does Sovereignty Look Like?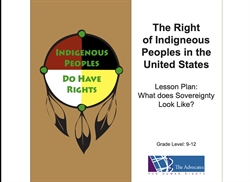 Date:
January 1, 2013
Document:
indigenous_rights_lesson_plan_9-12_2.pdf
Country:
United States of America
Type:
Educational Resource
Issues:
Education
,
Minority Rights
In this lesson, students will ask the question, What do we mean when we say tribes have sovereignty? They will learn about the right to self-determination and the barriers to that right faced by Native Americans in the United States.