Return to summary
Pro Bono Representation Manual: An Overview of Asylum Law and Procedure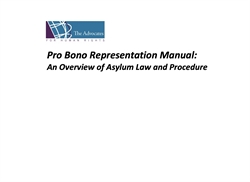 Date:
January 1, 2010
Document:
ahr_pro_bono_asylum_manual.pdf
Country:
United States of America
Type:
Manual
Issues:
Asylum
,
Legal Representation
,
Migrant Rights
This manual is a brief guide to asylum practice designed for volunteers of the Advocates for Human Rights who are handling pro bono asylum cases. This manual does not discuss all aspects of asylum practice or immigration practice related to asylum proceedings. Additional sources, including applicable statutes and regulations, should be consulted throughout preparation of any asylum case. Immigration law changes quickly, and practitioners are cautioned to ensure that current law and procedure are followed at all times.