Return to summary
The Khmer Rouge Tribunal: Resources for the Cambodian Diaspora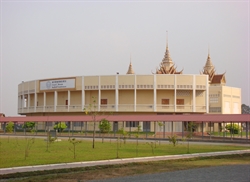 Date:
March 28, 2012
Document:
khmer_rouge_tribunal_resources_2.pdf
Country:
Cambodia
Type:
Tool or Factsheet
Issues:
Diaspora Engagement
,
Transitional Justice
Over 275,000 Cambodians live in the United States and nearly 10,000 Cambodians live in Minnesota alone. Many people survived the atrocities committed by the Khmer Rouge regime and want to see those responsible held accountable for their crimes against humanity. This resource sheet is designed specifically for people interested in becoming more aware of and engaged with the activities of the tribunal charged with bringing Khmer Rouge leaders to justice.