Return to summary
WATCH's Monitoring of Open CHIPS Cases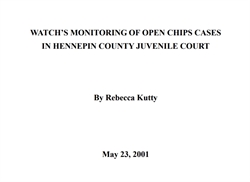 Date:
May 23, 2001
Document:
2001_CHIPS_report_-_Final2.pdf
Country:
United States of America
Type:
Report
Issues:
Court Monitoring
,
Women's Rights
Children in need of protection or services (CHIPS) cases in juvenile court were opened to the public in 12 Minnesota counties, including Hennepin County, for a three-year pilot project on June 22, 1998. WATCH volunteers and staff began monitoring CHIPS abuse or neglect cases and termination of parental rights (TPR) cases on a limited basis at that time. In November 1999, volunteers and staff randomly selected 45 CHIPS and TPR cases from emergency protective care calendars before different judges and began tracking them from start to finish.