Return to summary
WATCH Report: Impact of Court Monitoring on Hennepin County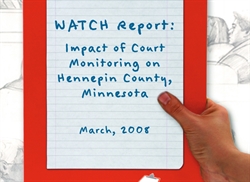 Date:
March 3, 2008
Document:
2007CJSsurveyfinalreport-Impact-Court-Monitoring-2008-copy.pdf
Country:
United States of America
Type:
Report
Issues:
Court Monitoring
,
Women's Rights
To evaluate the impact of court monitoring on the justice system and the effectiveness of its programs, WATCH has conducted two surveys of Hennepin County criminal justice system personnel over the years, the first in 1999 and the second in 2007. Both surveys asked respondents about their impressions of WATCH and its impact. The 2007 survey used many of the same questions as the 1999 survey, but also included questions that could provide information relevant to WATCH's national expansion.
Both surveys provide useful information regarding effective advocacy methods, reactions to WATCH reports and written materials, and most importantly, how and if behaviors are changed by the presence of WATCH monitors in Hennepin County courtrooms. The data gathered from both surveys (along with the comparative data) provide concrete examples and quotes that are extremely useful as WATCH promotes court monitoring as a means of systems change in jurisdictions around the United States.