Return to summary
Judicial Response and Demeanor in the Domestic Violence Court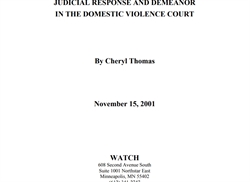 Date:
November 1, 2001
Document:
dv-reportJudicial-demeanor-2001.pdf
Country:
United States of America
Type:
Report
Issues:
Court Monitoring
,
Women's Rights
WATCH developed a monitoring project for the new court focused on judicial response and demeanor. This focus was based on the growing recognition of the powerful impact judges have on victims and defendants in domestic violence cases. As the final authority in the processing of a criminal case, it is the judge who maintains the power to communicate to offenders, victims, and the public whether our laws prohibiting domestic violence are meaningful or mere rhetoric. In addition, judicial demeanor and authority dramatically affect the atmosphere in a courtroom, creating the serious tone appropriate for domestic violence cases, or allowing a chaotic, informal environment that contributes to a less serious view of these cases.