Return to summary
Factsheet: Human Trafficking in Minnesota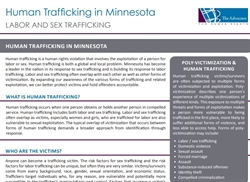 Date:
June 2, 2014
Document:
human_trafficking_in_minnesota_2.pdf
Country:
United States of America
Type:
Tool or Factsheet
Issues:
Human Trafficking
Human trafficking is a human rights violation that involves the exploitation of a person for labor or sex. Human trafficking is both a global and local problem. Minnesota has become a leader in the nation in its response to sex trafficking and is building its response to labor trafficking. Labor and sex trafficking often overlap with each other as well as other forms of victimization. By expanding our awareness of the various forms of trafficking and related exploitation, we can better protect victims and hold offenders accountable.