Return to summary
Sex Trafficking and Prostitution: An Overview of Four Legal Response Models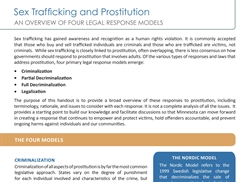 Date:
October 1, 2015
Document:
sextrafficking_and_prostitution_10_15.pdf
Type:
Tool or Factsheet
Issues:
Human Trafficking
,
Women's Rights
Sex trafficking has gained awareness and recognition as a human rights violation. It is commonly accepted that those who buy and sell trafficked individuals are criminals and those who are trafficked are victims, not criminals.
While sex trafficking is closely linked to prostitution, often overlapping, there is less consensus on how governments should respond to prostitution that involves adults. Of the various types of responses and laws that address prostitution, four primary legal response models emerge:
• Criminalization
• Partial Decriminalization
• Full Decriminalization
• Legalization
The purpose of the Sex Trafficking and Prostitution: An Overview of Four Legal Response Models, developed by The Advocates for Human Rights, is to provide a broad overview of these responses to prostitution, including terminology, rationale, and issues to consider with each response. It is not a complete analysis of all the issues. It provides a starting point to build our knowledge and facilitate discussions so that Minnesota can move forward in creating a response that continues to empower and protect victims, hold offenders accountable, and prevent ongoing harms against individuals and our communities.