Return to summary
Syria - Universal Periodic Review - Civil and Political Rights - July 2021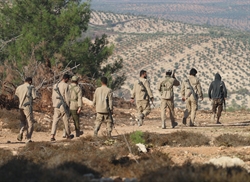 Date:
July 15, 2021
Document:
Syria UPR 1
Country:
Syrian Arab Republic
Type:
Intl Mechanism Submission
Issues:
Crimes Against Humanity, Genocide, War Crimes
,
Enforced Disappearance
Mechanism:
Universal Periodic Review
Report Type:
Stakeholder Report
In this joint UPR report, The Advocates for Human Rights and Syrians for Truth and Justice provide extensive evidence of human rights violations occurring in the northern Syrian regions of Afrin, Tal Abyad, and Ras al-Ain. Additionally, they reflect on Syria's 2016 UPR Review and outline where the Syrian government did not meet its obligations, including ensuring access to safe drinking water, stopping forced disappearances, and protecting civilians living under Turkish occupation.

By presenting evidence of human rights violations occurring in Syria, the authors hope that the United Nations Human Rights council will advise Syria to take immediate and effective steps to improve human rights conditions for people in northern Syria. These recommendations include that Syria:
1. Ratify and abide by relevant human rights treaties;
2. Recognize and respect property rights in occupied areas of Northern Syria;
3. Push for the disclosure of information on prisoners from Afrin and Northern Syria;
4. Release detainees held in extralegal circumstances;
5. Ensure the availability of clean water to residents of Northern Syria;
6. Cease or cause to be ceased all mercenary recruitment of Syrians and other human rights violations.
Photo credit: Syrians for Truth and Justice