2022 Volunteer Award Recipient: Akin Gump Strauss Hauer & Feld LLP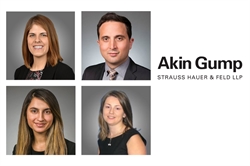 Date:
June 29, 2022
Type:
Profile
Issues:
Women's Rights
The team at Akin Gump Strauss Hauer & Feld LLP was instrumental in our work to investigate and expose the backlash to human rights. Theresa Perkins, Nicholas Antonas, Anna Anisimova, and Sahar Abas led a multi-office global team to conduct fact-finding on the anti-gender movement and its tactics in 14 countries in Europe and the Former Soviet Union. The firm supported an in-person mission to Croatia to pilot fact-finding on the anti-gender movement and thanks to the team, we completed 100 interviews for our report. Akin Gump lawyers contributed numerous hours and their talent to the report; for example, Anna Anisimova alone contributed more than 200 pro bono hours to this project. We could not have done this work without them.
The team helped us draft our report, A Rollback for Human Rights: The Istanbul Convention under Attack. As one of the strategies of the anti-gender movement is to use lawsuits to intimidate human rights defenders, Akin Gump stepped in again, with attorney Katherine Porter painstakingly reviewing our report to minimize our risks upon publication.
This work is crucial. Addressing the anti-gender movement is a burden for our partners whose primary work is serving victims of violence. Often, countering far right tactics also creates significant risks for human rights defenders. We are grateful for Akin Gump's tireless commitment to help us expose these hate groups and their tactics.