2022 Volunteer Award Recipient: Ava Kelley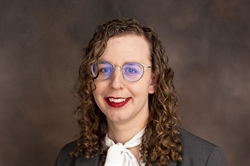 Date:
June 24, 2022
Type:
Profile
Issues:
Legal Representation
/
Migrant Rights
Each year, more than 100 interns contribute their time and skills to The Advocates' human rights mission. Most interns come to The Advocates to learn from staff but some interns bring unique skill sets that allows them to be teachers. We are proud to recognize one of those interns (and former volunteer), Ava Kelley, for her contributions to the Refugee and Immigrant Program. Ava first started volunteering with The Advocates by assisting clients with work permits. When she realized the team needed assistance in optimizing our new case management system, she used her software development background to save us hours of work every week by organizing and automating tasks.
Ava was accepted into law school while she was volunteering, and soon she returned as a legal intern and was helping write asylum briefs, preparing country conditions reports, and supporting clients during hearings. In April 2022, she gave her first closing argument at an immigration hearing for a client. Most recently, the first client Ava completed a work permit for was granted asylum. Thank you, Ava, for your remarkable legal advocacy for your clients and for helping our team assist asylum seekers more efficiently than ever.