Return to summary
2022 Volunteer Award Recipients: Client Activists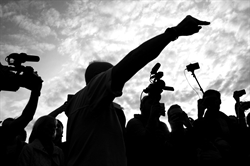 Date:
June 28, 2022
Type:
Profile
Issues:
International Advocacy
The Advocates creates opportunities for survivors of human rights violations to participate in global advocacy efforts, including at the United Nations, to hold governments accountable. In the past three years, more than 71 current and former clients have shared their experiences of human rights abuses in more than 25 reports to the UN Human Rights Council and treaty-monitoring bodies such as the Committee Against Torture, Human Rights Committee, Committee on Enforced Disappearances, Committee on Economic, Social & Cultural Rights, and Committee on the Elimination of Discrimination against Women.
A small number of courageous activists have volunteered with The Advocates to directly advocate with UN human rights mechanisms to change human rights conditions in their countries of origin. They have conducted human rights fact-finding and research, helped draft written reports documenting human rights problems, participated in briefings with UN human rights experts, and spoken at several of The Advocates' events targeting Human Rights Council delegates. These activists have had the courage to speak truth to power, sharing their lived experiences with the international community and bringing our reports to life by putting a human face on otherwise impersonal data. Their voices are particularly important when human rights defenders in their countries of origin are not able to safely speak out.