Return to summary
2022 Special Recognition Award: Fe y Justicia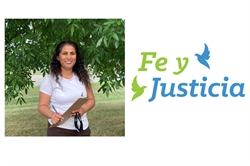 Date:
July 1, 2022
Type:
Profile
Issues:
Human Rights Defenders
,
Migrant Rights
Fe y Justicia is a Latinx-led organization that strives to bring justice and provide kindness and compassion to the Central Minnesotan community. They have been an important partner in The Advocates' efforts to provide legal services to asylum seekers in Greater Minnesota. Fe y Justicia promotes education, trains leaders, registers voters, and provides many important resources to an underserved population.
Last year, The Advocates worked with Fe y Justicia to run multiple legal clinics for asylum seekers living in Central Minnesota. At the first of those clinics, partly thanks to Fe y Justicia's incredible outreach efforts, we met with three times as many people as expected. Fe y Justicia members worked tirelessly to make clients welcome – serving warm coffee, organizing the sign-in, and making copies in the church office. Since then, we have worked with Fe y Justicia to organize several more Central Minnesota clinics. These clinics allow a small number of staff and volunteers to work with a large number of people. They put the power in the hands of immigrants to file their asylum applications. We look forward to further collaboration on asylum, labor rights, and more. We thank Fe y Justicia for their work advocating for human rights. The Advocates is honored to present them with this year's Special Recognition Award.