2022 Volunteer Award Recipients: David & Mary Parker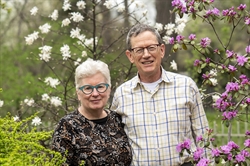 Date:
June 27, 2022
Type:
Profile
Issues:
Children's Rights
/
Nepal School
David and Mary Parker have supported The Advocates for more than 20 years. Both have served on the Board of The Advocates and have been deeply involved with the Sankhu-Palubari Community School (SPCS) since its inception.
Mary and David have worked for decades to raise awareness and funds for The Advocates' work. Since the beginning of the pandemic, Mary has participated in dozens of virtual galas, auctions, and fundraisers to find out what works and report back to our team. Her professional research skills were instrumental in the success of The Advocates' virtual events these past two years. A skilled photographer, David has shown thousands of people what child labor looks like – and what free education at SPCS looks like as an alternative. David and Mary have hosted countless house parties to support the school, inviting new and old friends alike to learn about the right to education in Nepal. The Parkers' investments in the school have changed the lives of countless students who graduated from SPCS and pursued professional careers. Thank you, David and Mary, for your generous and creative support through the years.