Return to summary
#WelcomeWithDignity Campaign to Transform Protection of People Forced to Flee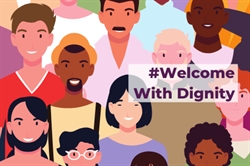 Date:
June 1, 2021
Country:
United States of America
Type:
Action
Issues:
Asylum
,
Detention
,
Due Process and Fair Trial
,
Legal Representation
,
Migrant Rights
The Advocates for Human Rights joins organizations, activists, asylum-seekers, advocates, and our community in the #WelcomeWithDignity Campaign to transform the way the United States receives and protects people forced to flee their homes to ensure they are treated humanely and fairly. To build a more just and truly humanitarian system we must reject the xenophobia and racism that motivated dangerous policies in the past.
Join us! Pledge to #WelcomeWithDignity and build a movement to reimagine the way our country and our communities treat people seeking safety.