Call on Congress to Protect Our Afghan Allies and Neighbors: Support the Afghan Adjustment Act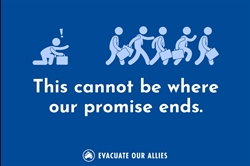 Date:
April 28, 2022
Country:
United States of America
Type:
Action
Issues:
Asylum
/
Migrant Rights
Since the fall of Kabul last August, The Advocates for Human Rights has been working to ensure protection for Afghans in the United States.

In addition to our work providing legal help to Afghans arriving in Minnesota, we have been working with the Evacuate Our Allies Coalition to encourage Congress to introduce and pass an Afghan Adjustment Act. The Afghan Adjustment Act would provide a path to permanent residence for arriving Afghans, who currently have permission to stay in the United States for only two years. Legislation is essential to ensure that our Afghan neighbors and allies are not left without status or forced to go through the slow and traumatizing asylum process.
This issue has bipartisan support and the approach does not reinvent the wheel. The United States passed similar legislation after the fall of Saigon, in the wake of the Cuban Revolution, in support of our Iraqi allies, and recently for Liberians living in the United States.
The Afghan Adjustment Act is not only the right thing to do, it is the best way to ensure efficient processing of cases for the approximately 130,000 people evacuated to the United States. The U.S. immigration system currently faces a backlog of more than 380,000 cases at the Asylum Office and 1.6 million cases in the Immigration Courts.
With the inclusion of the Afghan Adjustment Act in the White House's recent supplemental funding request, it's time for Congress to act. The Advocates is calling for its speedy passage to provide certainty and protection for our Afghan allies, service providers, and communities. Learn more and take action by calling on your leaders to urgently support introduction and passage of an Afghan Adjustment Act today.
Call your senators and representatives at 202-224-3121 and with the message "I urge you to swiftly pass the Afghan Adjustment Act so people evacuated from Afghanistan can rebuild their lives in safety and permanence in the communities that welcomed them. Providing a clear pathway for people to move from emergency temporary status to permanent residence will strengthen our communities and provide stability to those who stood by our side."