Fairness To Freedom Campaign for Universal Representation
April 26, 2022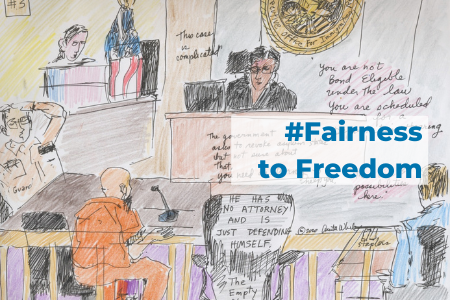 The Advocates for Human Rights joins a coalition of over 100 organizations, legal services providers and elected officials is calling on Congress to move forward legislation establishing a universal right to legal representation for everyone in the immigration system.
United States' immigration policy must meet international human rights standards by doing justice, operating fairly, being free from discrimination, and supporting human dignity. Violations of migrants' human rights result from entrenched failures of U.S. immigration laws: lack of meaningful defenses to deportation or avenues for people who are not in status to move into lawful immigration status, the excessive and coercive power given by Congress to ICE to detain people without any individualized custody determination, and a failure to engage in creating a safe global migration environment. These failures are rooted in the immigration system's legacy of white supremacy.

At the same time, we know access to representation directly impacts case outcomes and lack of access to representation contributes to a nearly unstoppable machinery of deportation.
Systems actors at all levels must take steps to end these human rights violations.
Stay up to date with the campaign for universal representation here.