Lindsey Greising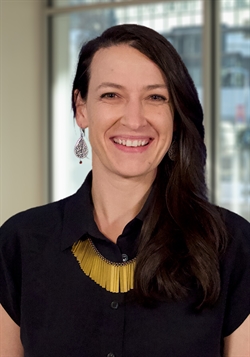 Programs:
Refugee and Immigrant, Advocacy
Lindsey is a Staff Attorney with our Research, Advocacy and Education team. In that capacity, Lindsey works on advocacy efforts focusing on immigration, trafficking, racial justice in addition to other special projects as they arise. Lindsey also leads our direct client services to victims of human trafficking, providing training and mentorship to pro bono attorneys helping victims of trafficking apply for T nonimmigrant benefits.
Before joining The Advocates, Lindsey spent many years working internationally on human rights programs, including: work with the International Organization for Migration (IOM) on human trafficking research and the International Labour Organization (ILO) on labor rights and gender equity. Lindsey also worked with the US Department of State on conflict prevention programming and research, particularly focusing on police professionalism. In addition, she worked on Internally Displaced Persons (IDP) reintegration and access to justice projects with local NGOs in East Timor (Timor-Leste). Lindsey also brings experience in private immigration practice where she provided representation on a range of immigration cases including humanitarian, family-based, and employment-based matters as well as naturalization and citizenship. Lindsey has co-authored two research guides on legal research in Timor-Leste in addition to co-authoring a piece on second generation security sector reform in international development, focusing on community policing models.
Lindsey graduated magna cum laude from the University of Minnesota Law School with a concentration in human rights law and received her Bachelor of Arts in international studies from the University of Denver with magna cum laude honors. While in law school, Lindsey served in the Immigration & Human Rights Clinic, where she worked on asylum cases and helped to a working group on pro bono representation for detained migrants. She has also worked as a teaching assistant for an undergraduate International Human Rights Law course, interned for the judges at the International Criminal Tribunal for Rwanda (ICTR), and assisted Amnesty International USA on human rights research and advocacy. Lindsey serves as an adjunct professor of immigration law at the University of St. Thomas School of Law in Minneapolis and is a member of the American Immigration Lawyers Association (AILA).