Return to summary
Migrant Rights House Party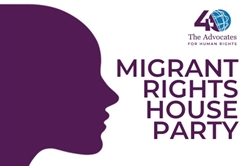 Date:
October 5, 2023 5:30 PM - 7:30 PM
Type:
In Person
Issues:
Asylum
,
Court Monitoring
,
Freedom of Movement
,
Human Rights Defenders
,
Migrant Rights
Twelve hundred Afghans evacuated to Minnesota in 2021. Twenty-four hundred unaccompanied migrant children arriving in Minnesota in the last two years. More than 1,300 people seeking help navigating the asylum system. Last year The Advocates for Human Rights helped more than 3,000 people navigate the immigration legal process. Join us to support our work mobilizing volunteers to provide free legal services to migrants.
Hosted at the home of Andrea and Jim Rubenstein (5108 Bryant Ave S, Minneapolis, MN 55419)
Can't attend but want to support The Advocates? Click here to make a donation.


Co-host Committee:
Catherine Shreves & Tom Bird | Aviva Breen | Karen Evans | Dean Eyler | Melissa & Patrick Finnegan | Alan Goldfarb | David & Lynn Vander Haar | William Hittler | John & Kristine Mandler | Chris Bercaw & Mary McKelvey | Ralph & Mary Jane Mitchell | Kathleen Moccio | Linda & John Rebane | Sally Silk | Dan Supalla | Emily Wessels | Kevin & Michelle Zhao