Domestic Violence Awareness Month: Remembering the Origins of WATCH
October 15, 2019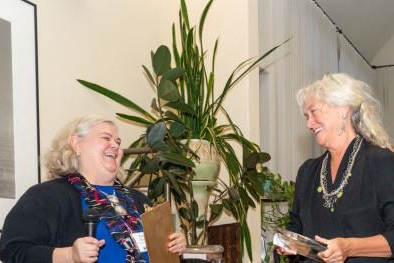 October is Domestic Violence Awareness Month, as well as the month in which Sheila Wellstone and her husband Sen. Paul Wellstone died in the crash of a small airplane in 2002.
For those who knew her, the two are forever linked, because Sheila was a leader in bringing awareness to the crushing impact of domestic violence.
A self-described 'wrestling mom', Sheila traveled the state with Paul during his 1990 senate campaign. As she sat in coffee shops and VFW halls, she heard women talking about the abuse they suffered in their own homes at the hands of the men they thought loved them. While economic dependency played a role, it was also a mix of fear and shame that shackled them to their abusers.
Recognizing these women and children needed laws and services to help them find safety and to break the cycle of violence, Sheila and Paul enlisted then Sen. Joe Biden to help them draft the bill that would become the Violence Against Women Act of 1994.
Meanwhile, 1991 saw the nomination of Clarence Thomas to the United States Supreme Court and the testimony of Anita Hill about the sexual comments Thomas had allegedly made to her when they worked together in a previous job. The panel of male senators sniggered their way through her testimony like embarrassed schoolboys, and we know how that turned out. I still believe Anita Hill!
Shortly after that, the Star Tribune ran a series called "Free to Rape," detailing the lenient sentencing practices in Minnesota in cases of rape and domestic assault.
In that series, a Hennepin County victims' advocate said that she wished there was an organization like MADD to keep an eye on the courts. "Until that happens, nothing will change."
That article was the catalyst for WATCH (Women At The Court House, later condensed to WATCH), which I helped found later that year. The mission was to make the courts more responsive and effective in handling cases of violence against women and children and to create a more informed and involved public.
The idea was simple: trained volunteers would monitor felony cases of sexual assault and domestic violence from arraignment through sentencing. They would note "objectively observable behaviors" of court personnel, such as timeliness, ability to he heard, attentiveness to the victim, apparent race of the victim and the defendant, amount of bail set, any upward or downward departures from the sentencing guidelines, as well as how much of the proceeding took place in the judges' chambers.
Cases with unusual outcomes would be referred to staff for further research to develop a more complete understanding of the issues affecting the case. WATCH looked for systemic patterns of behavior, not for the occasional misstep.
And yes, volunteers would carry clipboards because judges requested a way for them to be easily identifiable to them, but not to a jury. Red clipboards were chosen because they were on sale the day we went shopping, not as an incendiary color to intimidate anyone (as one judge later charged)!
After one year, WATCH issued its first report, Hennepin County Criminal Courts, A View from the Outside, which was based on observing more than 1600 appearances in cases related to domestic abuse and criminal sexual conduct. The report can be found here:
The report made recommendations on how the often-byzantine system could be more easily navigated by the public, especially victims and their families, as well as changes to certain policies that left victims exposed to more danger As Hennepin County District Court Judge Daniel Mabley wrote at the time, "The report demonstrates that sometimes the best ideas for change come from "outsiders" who are not biased by the assumptions and history that often blinds insiders to the need or potential for change."
Over the years, WATCH expanded into observing and reporting on similar cases at the misdemeanor level, conducted a multi-year monitoring and research project in child protection court, advocated successfully for a designated domestic violence court, monitored family court in order for protection hearings, compared sentencing practices in misdemeanor domestic violence cases in the suburban courts to those in the downtown court, worked to pass legislation making strangling a felony offense, not a misdemeanor, and much more. Recently, WATCH expanded into Ramsey and Washington counties and issued two reports on the prosecution of sex trafficking in those jurisdictions.
But in the very early years, we were encouraged and guided by Sheila Wellstone. She moved behind the scenes to bring domestic violence out of the shadows. With others, including WATCH, she helped change the legal and cultural attitudes that viewed domestic violence as a family matter.
WATCH recently became a project of The Advocates for Human Rights, and I cannot imagine a more perfect partnership.
Our work is cut out for us. In 2017, 24 people in Minnesota died as a result of domestic violence, 19 of them women, the other five family members or friends of the victims.
All acts of violence are horrific, but violence in the home passes its toxic seeds on to the next generation, and the next after that. Children who grow up witnessing abuse have a difficult time breaking the cycle.
In October, we pause to remember those who have been silenced by an intimate partner, and to renew our commitment to end the pandemic of domestic violence. And I'd add, to honor the courageous work of Sheila Wellstone.
To volunteer with The Advocates' WATCH Project, please click here.
By Susan Lenfestey, founder of WATCH, the court monitoring and judicial policy non-profit based in Minneapolis, MN. Susan is the 2019 Gold WATCH Award Recipient.