The Advocates Welcomes Progress in Ethiopia
April 23, 2019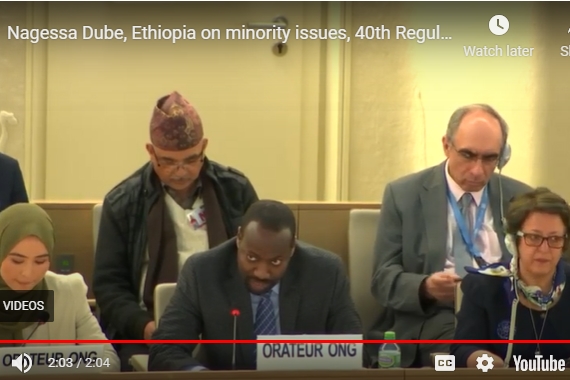 The Advocates for Human Rights has worked in partnership with the Oromo diaspora for many years to hold the government of Ethiopia accountable for human rights violations. In March 2019, volunteer Nagessa Dube made the following oral statement at the United Nations Human Rights Council during an Interactive Dialogue with the UN Special Rapporteur on minority issues.
Dear Mr. President:
The Advocates for Human Rights, alongside partner organization United Oromo Voices, would like to thank the Special Rapporteur for his report on minority issues. The concerns that he raises in his report and in his 2018 country visits parallel the struggles minority indigenous groups face in Ethiopia.
Similar to Botswanan minorities, as discussed in the report, minority groups in Ethiopia face barriers to land use. Members of the minority Ogaden community have been subjected to the arbitrary confiscation of land and ethnic persecution since the beginning of Ethiopian rule over the Somali region in 1948. In April 2014 and again in November 2015, the Oromo people launched large-scale protests in opposition to the Addis Ababa Master Plan, which intended to forcibly displace the Oromos from their homes in favor of expansion of the territory of the capital city.
We call attention to the persecution and suppression of freedom of speech. Many Oromo people were injured and killed during the 2016 Irreechaa protests after security forces fired into crowds. Many survivors were taken into government custody.
We do commend the Ethiopian Government for accepting several recommendations in the last UPR in 2014 to take measures to alleviate tensions between and discrimination against ethnic groups through intercultural and inter-religious dialogue. And we welcome the current administration's stated commitment to reforms, including the release of thousands of political prisoners—many belonging to minority and indigenous groups—and ending the state of emergency. Despite this progress, the threat to minority rights in Ethiopia continues via land displacement, persecution, and suppression of the freedom of expression.
We urge the government of Ethiopia and the Council to work together to confront the threats to minority rights in all their forms.
Thank you.