Young artists share their vision for a world without the death penalty
October 10, 2017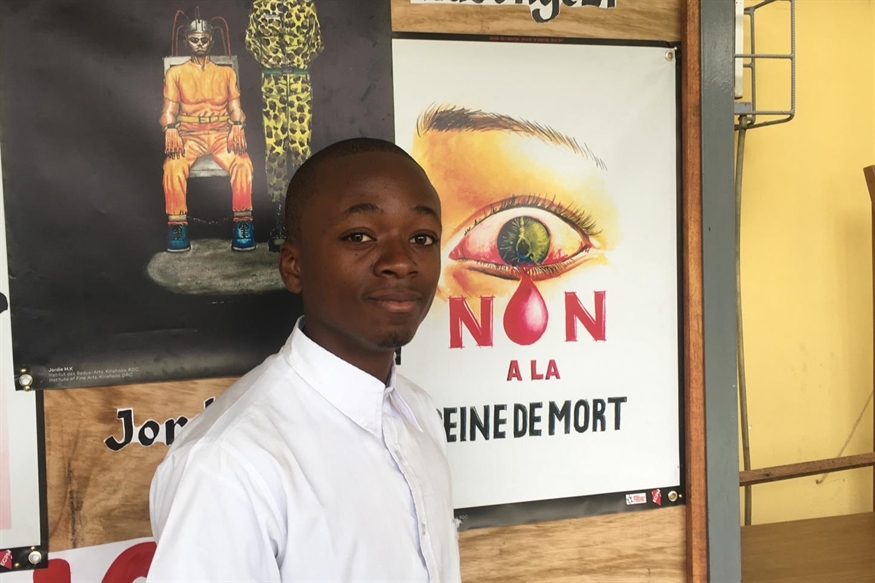 Today, October 10, is the World Day Against the Death Penalty. I am thinking back to a conference I attended in Kinshasa, Democratic Republic of the Congo, just a few weeks ago, on strategies for abolishing the death penalty. The conference, in partnership with Together Against the Death Penalty (ECPM), included two full days of presentations, discussions, and exhibitions. ECPM invited me to lead workshops on the Human Rights Council's Universal Periodic Review and on conducting fact-finding to document conditions on death row in the DRC.
I found one part of the conference to be particularly powerful. As part of ECPM's "Draw Me the Abolition" project, students around the world submitted illustrations of their conceptions of the death penalty. Four Congolese finalists were awarded diplomas at the conference and we were able to see all of the winning artwork on display. Their illustrations serve as a powerful testament to the harsh realities of the death penalty.
Below are some of the Congolese finalists and their extraordinary artwork, along with other winning posters. The illustrations, rife with pain, are indicative of the injustice of the death penalty.
Take action
Which posters do you find most compelling? Share this blog post to spread the word
Attend the upcoming screening of The Penalty at the Twin Cities Film Fest (Wednesday, Oct. 25, 7:20 pm) and stay for the post-film discussion, including The Advocates' Executive Director Robin Phillips
Follow The Advocates for Human Rights and The World Coalition Against the Death Penalty on social media
Share why you oppose the death penalty on social media, using the hashtag #NoDeathPenalty
Organize an event in your community
Write to a prisoner on death row
Call on the federal government to impose a moratorium on the use of the death penalty
If you live in a state that still has the death penalty, call on your elected officials to end the death penalty and call on prosecutors to stop seeking the death penalty
By Amy Bergquist, The Advocates' International Justice Program staff attorney