Abolishing the Death Penalty: in Memory of John Thompson
October 9, 2017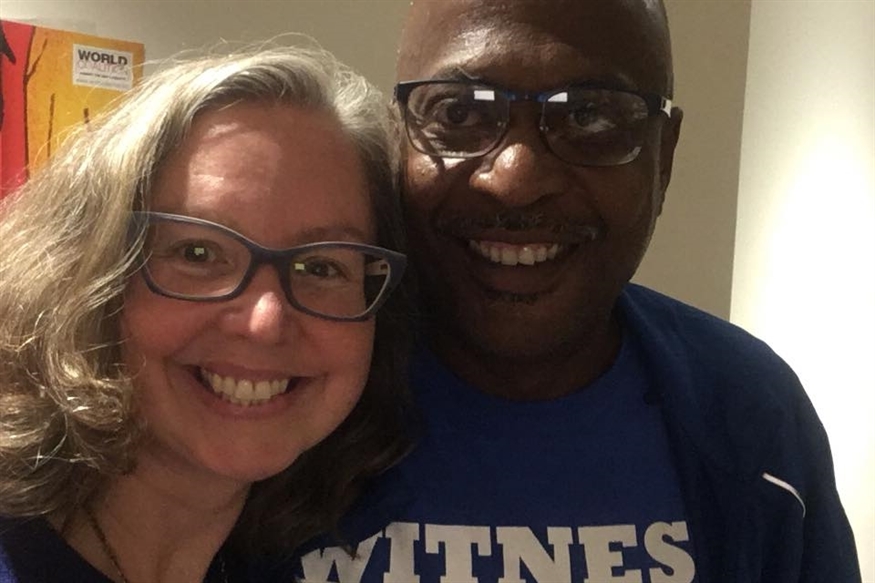 "Very sad news," the subject line read. One week ago today, Elizabeth Zitrin, the former president of the World Coalition Against the Death Penalty, emailed me to let me know that John Thompson had died.
October 10 is the fifteenth World Day Against the Death Penalty, and it's an appropriate occasion to reflect on John's life and the "deadly mix" of poverty and justice.
Connick v. Thompson: John Thompson's case goes to the Supreme Court
I first learned about John's extraordinary life in 2010, when I was a law clerk for Justice Ruth Bader Ginsburg. Supreme Court clerks see a lot of death penalty cases, and usually they are gut wrenching last-minute appeals before a person is executed. But John's was different. He was indisputably an exoneree—he spent 18 years in prison—14 of them on death row—before being released on account of what my local newspaper's obituary quaintly refers to as "evidentiary problems." Prosecutors, violating John's constitutional right to a fair trial, had suppressed evidence proving his innocence.
John sued the district attorney's office, then headed by Harry Connick, Sr., and the jury awarded him $14 million—one million dollars for every year he spent on death row. The conservative-leaning U.S. Court of Appeals for the Fifth Circuit upheld the jury award, concluding that Thompson had proven that Connick was deliberately indifferent to the obvious need to train prosecutors on their duties to disclose evidence.
The Supreme Court, split 5-4, took away the jury's verdict. The majority asserted that John's case involved only a "single incident" of prosecutor misconduct, even though multiple attorneys had played a role in the suppression of multiple pieces of evidence. And because it was a "single incident," Connick's failure to train his prosecutors on evidence disclosure did not rise to the level of "deliberate indifference" to Thompson's constitutional rights because those constitutional violations were not an obvious consequence of Connick's failure to train.
Justice Ginsburg authored the dissent, joined by Justices Breyer, Sotomayor, and Kagan. As she does once or twice a term, when she feels particularly strongly about a case, she summarized her dissent from the bench. She wrote that the constitutional violations in John's case "were not singular and they were not aberrational. They were just what one would expect given the attitude toward [evidentiary disclosure] pervasive in the District Attorney's Office. Thompson demonstrated that no fewer than five prosecutors . . . disregarded his [constitutional] rights. He established that they kept from him, year upon year, evidence vital to his defense. Their conduct . . . was a foreseeable consequence of lax training in, and absence of monitoring of, a legal requirement fundamental to a fair trial."
He needed no introduction
In June, I was in Washington DC for the biannual meeting of the World Coalition Against the Death Penalty, and the organizers had prepared an ice-breaker activity to encourage Coalition members to get to know each other. John Thompson was attending as a member of the Board of Directors of Witness to Innocence, another member of the Coalition. As part of the ice-breaker, as fate would have it, John's task was to find me and introduce himself.
He needed no introduction. It's a rare occasion for a former Supreme Court clerk to meet a litigant whose case had been before the Court during her clerkship, particularly a case so memorable that, on the day the majority handed down its opinion stripping John of his jury award, Justice Ginsburg had donned her "dissenting collar" and dissented from the bench.
I apologized to John that his case hadn't come out in his favor. John just shook his head and shared my disappointment for a moment, but then he was ready to move on. We talked about Witness to Innocence and The Advocates, and out of our conversation bubbled up the idea of reaching out to jurors who had sentenced people to death who had later been exonerated. John wondered whether the jurors in his case even knew he had been exonerated, and how such information would make them feel, having found him guilty "beyond a reasonable doubt."
Resurrection After Exoneration
What struck me most about John was his resilience. He was arrested in 1984 at the age of 22, and released only in 2003, at the age of 41. He had survived six execution dates, but during his time in prison he missed the opportunity to watch his two children grow up, was denied the chance to go to college or start a career, and even missed out on such mundane things as learning to use email.
Yet upon release, John hit the ground running. He founded an organization called Resurrection After Exoneration. As he explained:
Exonerated prisoners (exonerees) and returning long-term prisoners re-enter the free world with high hopes of a fresh start but are soon trapped in the cycle of poverty and disillusionment that led to their original imprisonment. To enable us to break this cycle, I will create for us a positive understanding of life's potential and for society an understanding that recidivism (even by exonerees) is caused by lack of opportunity. If returning prisoners succeed, the whole community benefits.
Returning prisoners are people stripped of self-sufficiency, control and autonomy. In response, I came up with the idea of an exoneree-run re-entry program: Resurrection After Exoneration. The program has been designed to empower us to regain these attributes by creating an opportunity to rise up as individuals and say "I can do this", rather than having someone else tell us "You must do this."
John used his facebook page to share joy and love. In addition to proud photos of his grandchildren, he shared videos of "incredible stories" and affirmations to "stay strong!"
Poverty and justice: A deadly mix
John's observation that "poverty and disillusionment" had led to wrongful convictions, and were often waiting at the prison gate after exonerees' release, highlights the saliency of the theme of this year's World Day Against the Death Penalty, Poverty and Justice: A Deadly Mix. The Equal Justice Initiative estimates that 95% of all people on death row in the United States come from disadvantaged economic backgrounds.
How did John even become a suspect in the crimes he did not commit? As a 22-year-old self-described "small-time weed dealer" trying to support his two children, he bought a ring and a gun from the murderer, not knowing that the ring was the victim's and the gun was the murder weapon. His public defender didn't press prosecutors when the blood sample that would later prove John's innocence was not in the evidence locker when he went to inspect the evidence before trial.
Proving John's innocence wasn't cheap. The pro bono team that had taken on John's case had run out of options, and at the 11th hour they decided to hire a private investigator to dig through some microfiche. That private investigator uncovered the blood evidence that prosecutors had concealed.
It's likely that a suspect with ample financial resources never would have been tried, much less convicted and held on death row for 14 years, with a similar set of facts and evidence.
A worldwide problem
People from disadvantaged socio-economic backgrounds around the world are more vulnerable to be sentenced to death than others. A recent study conducted by the National Law University of New Delhi found that 74% of people sentenced to death in India are from economically vulnerable backgrounds. A study in Nigeria found that the overwhelming majority of people on that country's death row are economically disadvantaged.
The World Coalition has identified many factors that illustrate the injustices people from disadvantaged socio-economic backgrounds face in death penalty cases around the world:
Unequal access to education and information.
People living in poverty often lack a formal educational background that would enable them to understand and participate fully in legal proceedings initiated against them, and that would empower them to assert their rights under the law.
Bail and pretrial release. A person who obtains pretrial release is better able to prepare a defense, yet people from disadvantaged socio-economic backgrounds often cannot afford bail to secure their release.
Access to counsel. In India, for example, 89% of prisoners sentenced to death did not have legal representation before their first magistrate hearing, even though the law entitles them to such representation.
Effectiveness of legal counsel. In many jurisdictions, the legal counsel the state provides to indigent defendants is less effective than the legal counsel that more affluent defendants can hire. These state-appointed attorneys may be less experienced, underpaid, and overworked. As Clive Stafford Smith, founder of the NGO Reprieve, put it, "The death penalty is not for the worst criminal, it's for the person with the worst lawyer."
Cost of building a strong defense. In Nigeria, for example, if a suspect is not able to pay for gasoline, the police will not travel to see witnesses to assess the suspect's alibis. Expert witnesses and witnesses to rebut the state's evidence can also be costly.
Bias and discrimination. Whether the sentence is pronounced by a judge or a jury, finders of fact often harbor explicit or implicit biases against people from disadvantaged socio-economic backgrounds.
Corruption. In many countries where corruption is prevalent, a defendant must pay bribes to have petitions heard or even to meet with counsel. In Nigeria, police often release a suspect in exchange for payment. Colleagues in Malaysia tell me that even though the law requires prosecutors to disclose evidence to the defense, they often fail to do so and face no legal consequences.
Conditions on death row. The conditions of detention on death row often depend on the financial resources of the convicted person. In some countries, a prisoner without access to financial resources may have difficulty accessing health care or quality food.
Family. Being charged with a death-eligible crime and sentenced to death can place a heavy financial toll on the person's family. Family members often sacrifice every available resource to assist with the person's defense, driving the family further into poverty.
In memory of John Thompson, I would add to this list that exonerees are often deprived of compensation that would help them rebuild their lives. In a 2013 I attended a powerful meeting of Journey of Hope...From Violence to Healing, where I learned that in many states, prisoners sentenced to death are not eligible to participate in prison education and vocational training, because such programs are "not consistent with their sentence." And as John noted, in many states exonerees aren't even eligible for the job training programs that parolees get, because exonerees aren't on parole.
Take action
John Thompson was one of the lucky ones. The Supreme Court stripped him of the jury's $14 million award, but he persisted, using his 14 years of freedom to make the world a better place by fighting for criminal justice reform, for accountability for prosecutorial misconduct, and for much-needed services to assist exonerees.
You can make a difference, too. The goal of World Day 2017 is to raise public awareness of the reasons people living in poverty are at greater risk of the death penalty. Here are some things you can do:
Share this post with your family and friends
Read John Thompson's op-ed called "The Prosecution Rests, but I Can't," published soon after the Supreme Court's decision in his case
Follow The Advocates for Human Rights and The World Coalition Against the Death Penalty on social media
Share why you oppose the death penalty on social media, using the hashtag #NoDeathPenalty
Organize an event in your community
Write to a prisoner on death row
Call on the federal government to impose a moratorium on the use of the death penalty
If you live in a state that still has the death penalty, call on your elected officials to end the death penalty and call on prosecutors to stop seeking the death penalty