Blaise Masinga: The Journey to Regaining Self-Power
June 3, 2021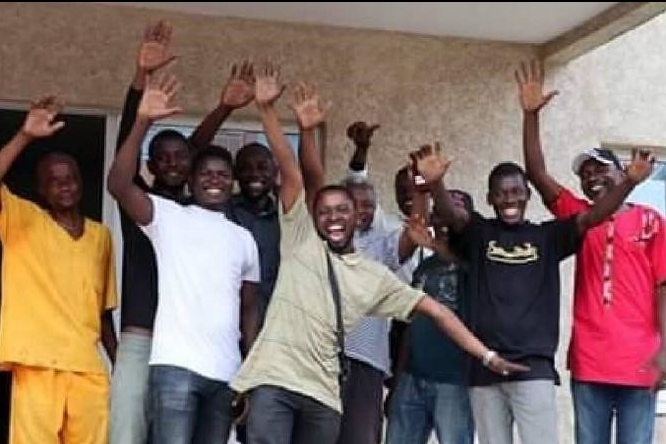 In a room full of refugees and asylum seekers, Blaise Masinga is reminded of the time when he was in their shoes. He had fled from South Africa to Minnesota, leaving behind his wife and two children. Pain, trauma, and uncertainty are still on the forefront of his mind when he thinks about that time. Similar to the journeys of many other asylum seekers, Blaise's path to safety and reunification with his family was long, unpredictable, anxiety-filled, and lonesome.

South Africa had actually been his refuge after fleeing from his birth country, the Democratic Republic of Congo, as a teenager. He had built a life in South Africa. He attended university and received a degree in marketing from the Institute of Marketing Management. He married and welcomed the first two of his children into the world. He advanced in his professional career. By 2010, he achieved the opportunity to work as a business manager for a multinational company connected to the Democratic Republic of Congo and Central Africa. Outside work, Blaise noticed many forms of racism and discrimination. As a refugee himself, he became an activist for immigrant and refugee rights. After spotting corruption in a work project, he spoke up. For Blaise, speaking out against injustices was natural, but it also made him a wanted man and became the reason he fled from South Africa in 2012.
With his safety compromised, Blaise left his family, his home, his career, his community, his activism, and found himself empty-handed seeking asylum in Minneapolis. He didn't know it at the time, but it would be four long years before he was reunited with his family. Remembering these years, he said, "I should've known that the process to win an asylum case in the United States is a long journey that requires patience. It was a painful experience to leave my wife and kids." At times he felt helpless and had to regain his sense of agency over his life. "Let me be honest," Blaise says with a smile on his face, "the first good resource I found was The Advocates for Human Rights." The Advocates staff connected Blaise with a pro bono lawyer who helped Blaise win his asylum case. Through a social work intern at the organization, he was also connected to two other important resources that helped him through this difficult time: the Center for Victims of Torture that helped him meet basic needs, and the Mennonite church that provided him with a community. All of those combined gave Blaise the right tools to begin rebuilding his life in the United States. During this time, Blaise volunteered with many nonprofit organizations, and worked as a French to English interpreter for refugees, a cashier at Target and a bank teller. Blaise's patience, stamina, and willingness to fight for himself all played a crucial role in him reclaiming his independence.
Blaise gained asylum and built up his independence, returning to school in 2016 for a "mini masters" in Project Management from the University of St. Thomas. Still, he faced more challenges. The racial discrimination Blaise faced was like his experiences as a refugee in South Africa. "In the United States, someone judges you for your accent, but not your brain," he began. "Don't let your circumstances pull you back, because otherwise you aren't going to win." This resilience, and his experiences as a refugee, changed his vision and plans once again. He redirected his focus in 2018 and enrolled at Metropolitan State University to earn a degree in community development. "I believe we were called to make a difference in people's lives," Blaise said. This dedication to honesty and helping others, which led to him being forced out of South Africa, has been a driving force behind his work in community development. Blaise recently started his own nonprofit organization, the Masinga Foundation. Their work will focus on community empowerment for immigrants, refugees, and other marginalized communities.
By Rielle Miguel, Undergraduate Student from the University of Minnesota and Spring 2021 Development Intern.