Return to summary
The Advocates Supports the New Way Forward Act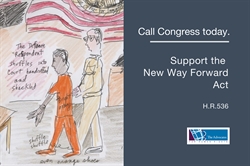 Date:
January 28, 2021
Country:
United States of America
Type:
Action
Issues:
Detention
,
Due Process and Fair Trial
,
Migrant Rights
The Advocates supports the New Way Forward Act
Sponsors: Reps. Garcia, Meng and Jayapal; Sens. Markey and Hirono
Overview: This bill unwinds the harms of increasing criminalization of migration throughout the 1990's. It will end mandatory detention and ban for-profit jails, increase judicial discretion to immigration judges and restore judicial review, and bar local police from acting as federal ICE agents. It will also disentangle the criminal and immigration justice systems by limiting deportations for drug convictions and other offenses, ending criminal punishments for crossing the border, and expanding opportunities for people to return to the U.S.
AHR supports: Embodies the new vision we need for our immigration system-one that disentangles criminal and immigration systems, recognizing that the criminal justice system overwhelmingly harms black and brown communities, and that our immigration system should not be founded on exclusionary policies that are inherently racist.