Comments on DHS Trafficking Victim Protection Regulations Due September 14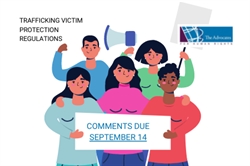 Date:
August 9, 2021
Document:
Trafficking Reg Template Comment.AHR (1).docx
Country:
United States of America
Type:
Action
Issues:
Human Trafficking
/
Migrant Rights
/
Women's Rights
/
Workers' Rights
Join us to make your voice heard on federal trafficking victim protection rules. Identify what works and what needs to be improved based on your experience over the four years that interim rules have been in effect.

>> Click on the Document Link above to download a template to help you get started.

>> Click here to learn how to draft and submit your comment by watching our how-to webinar.
>> Submit comments by September 14. Comments must be submitted through the federal regulations online portal. Consult the original 2016 IFR (81 Fed. Reg. 92266 (Dec. 19, 2016)) to locate the specific sections or wording contained in the regulations.

Background:
The Department of Homeland Security (DHS) implements the Trafficking Victim Protection Act and the T nonimmigrant status process through regulations.
In 2016, it proposed an "Interim Final Rule" with regulatory changes based on public comments received during a 2002 rulemaking and DHS's experience of operating under the 2002 rules for 14 years. The 2016 IFR has been in effect since that time, although DHS has never acted on the 71 comments received in response to its notice.

Now, DHS has re-opened the 2016 rule for updated public comment with an eye toward finalizing the interim regulations regarding T nonimmigrant status.