Return to summary
Joint Statement on Accountability in Liberia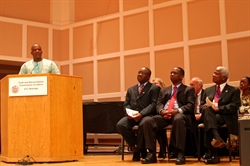 Date:
October 14, 2021
Country:
Liberia
Type:
Post
Issues:
Accountability 
,
Crimes Against Humanity, Genocide, War Crimes
,
International Advocacy
The Advocates and partners recently made a joint oral statement at the UN Human Rights Council 48th Session as part of the Interactive Dialogue with the Special Rapporteur on the promotion of truth, justice, reparation and guarantees of non-recurrence.
Madam President:

On behalf of a coalition of Liberian and international NGOs, we welcome the Special Rapporteur on the promotion of truth, justice, reparation and guarantees of non-recurrence's report and focus on accountability. We thank him for referencing Liberia, where "The establishment of the Extraordinary Criminal Court for Liberia has accordingly been delayed owing to a lack of political will, despite the demands of vast sectors of Liberian society."
In 2019, hopes for justice were raised amid indications by President George Weah that he would seek the legislature's advice on establishing a war crimes court. But the president has taken no further steps. While 52 legislators endorsed a resolution supporting a war crimes court, the speaker declined to introduce the resolution.
We are deeply concerned about recent developments, particularly the Senate's recommendation that the President set up a Transitional Justice Commission ("TJC"). We believe the proposed TJC would subvert the process foreseen by the TRC Act and unnecessarily thwart the establishment of a court to deliver justice to victims of civil wars-era atrocity crimes.
We welcome criminal cases that have been brought outside Liberia, as well as Liberia's cooperation with some of those initiatives, but they also underscore the lack of justice efforts in the country. The Liberian government should unequivocally support the establishment of a war crimes court and request UN assistance to do so. The government should also ensure the protection of human rights activists and witnesses. Liberia's international partners should insist that Liberia take these steps in line with the recommendations of the Special Rapporteur and other UN human rights bodies.
Advocates for Human Rights
Center for Justice and Accountability
Centre for Civil and Political Rights

Civitas Maxima

Civil Society Human Rights Advocacy Platform of Liberia
Global Justice and Research Project (GJRP)
Human Rights Watch

Transitional Justice Working Group of Liberia