This session, Minnesota needs to restore driver's licenses for all
January 3, 2023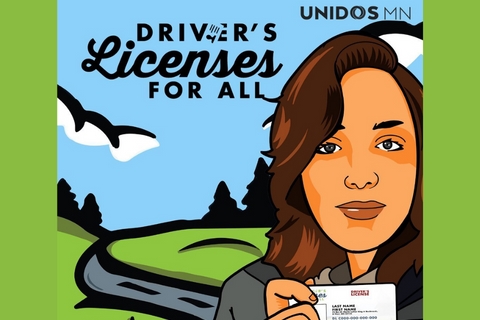 A unilateral rule change in 2003 stripped undocumented Minnesotans of access to driver's licenses or state IDs. Twenty years later, the Minnesota Legislature has the chance to restore common sense and a sense of community for all Minnesotans.
For decades, Minnesota made sure that people who live here can be licensed to drive or have access to state-issued identification. In the late 1990s, federal immigration officials in Minnesota began lobbying the State to change our longstanding, commonsense rules around data practices and driver's licenses. They argued for stripping undocumented Minnesotans of access to driver's licenses and pushed for unfettered access to the State's employment databases. Despite the Minnesota Legislature's repeated rejection of these attempts, in 1998 and 1999 the executive began unilaterally changing its rules.
Then, following the attacks on September 11, 2001, the Commissioner of Public Safety secretly introduced rule changes, opportunistically exploiting fears of terrorism to avoid public notice and comment. The framework cobbled together by the executive branch in 2003 in secret left many Minnesotans ineligible for a driver's license or arbitrarily tied their licenses to arcane and inconsistent paperwork produced by federal immigration agencies.
Today Minnesota has a robust, multi-tiered system for state-issued identification. U.S. citizens can obtain Enhanced Driver's Licenses which allow limited international travel without a passport. U.S. citizens and lawful permanent residents who want to use their state-issued identification to board a domestic flight or enter a federal facility can apply for a license that complies with the federal REAL ID Act. And for Minnesotans who want to use their driver's licenses to drive or their identification cards to identify themselves as a resident of our state - and a part of our community - a standard document should do just fine. But the system cobbled together in secret remains embedded in statute, arbitrarily restricting license validity to arcane immigration documents and preventing undocumented Minnesotans from obtaining licenses at all.
Twenty years is far too long. This session, Minnesota has the chance to restore common sense and a sense of community to our driver's license rules. Urge Minnesota legislators to pass HF 4 (Gomez) and SF 27 (Mohamed) now. Find out who represents you and how to contact them at Minnesota Legislature.