AHR Calls on Biden Admin. to Ensure Proposed Border Policies Fully Comply with Legal Obligations
January 6, 2023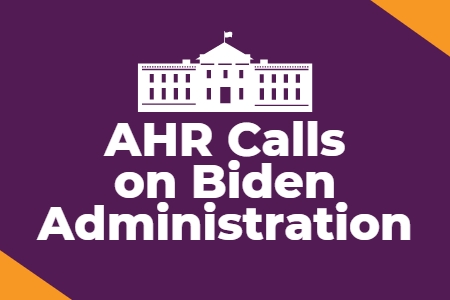 FOR IMMEDIATE RELEASE
Michele Garnett McKenzie
Deputy Director, The Advocates for Human Rights
612.746.4685, mmckenzie@advrights.org
(Minneapolis, MN-January 6, 2022). The Advocates for Human Rights calls on the Biden Administration to ensure that proposed border policies fully comply with our international treaty obligations and federal law. The U.S. has agreed to follow international law and not to return people to countries in which they face persecution, torture, or other harms. Yet, yesterday, the Biden Administration announced new border policies that risk restricting the right to seek protection, perpetuating cycles that allow trafficking victims to go unprotected, and entrenching illegal, ineffective and harmful policies under the guise of establishing safe, orderly and legal pathways to migration.
"The Advocates welcomes President Biden's interest in establishing additional legal pathways to safely migrate to the U.S.; however, we remind the Administration that seeking asylum is legal under both international and domestic law." Said Michele Garnett McKenzie, Deputy Director.
"While The Advocates appreciates the Administration's commitment to building safe, orderly, and fair ways for people to seek safety, it cannot do so while violating the rights of others who are similarly in need of protection. International and U.S. law are clear-the right to seek asylum from torture and persecution simply cannot be impeded." Added Garnett McKenzie.
The Biden Administration's proposed policies could create positive change by establishing a mechanism for certain individuals-Haitians, Nicaraguans, and Cubans-to obtain permission to enter the U.S. but these policies cannot unlawfully deny asylum to people who do not obtain advance permission. President Biden also announced plans to divert adjudications resources to the border, expand expedited removal proceedings that violate due process rights, and reinstate the third country travel ban that has already been struck down as illegal.
By establishing new and safer pathways for fleeing persecution, the United States is taking an important step toward upholding our commitment to the human rights of people seeking asylum. But the Administration cannot unlawfully deny asylum to people for simply failing to utilize a preferred pathway. Any such restrictions, including requiring individuals to apply for asylum in any third country through which they transit, will place the U.S. at risk of violating our legal obligations.
"The U.S. has numerous tools at its disposal to ensure people have due process of law when seeking safety from harm. As the world's wealthiest nation, the U.S. provides protection to less than one-half of one percent of the global refugee population each year. We do not need to expel people and limit asylum protections; we simply need to utilize our vast resources differently to ensure that people can move with dignity through safe, orderly and fair immigration processes." Concluded Garnett McKenzie.