2023 Don & Arvonne Fraser Human Rights Award: Justice Alan Page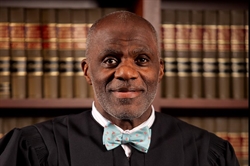 Date:
June 5, 2023
Country:
United States of America
Type:
Profile
We are presenting Justice Alan Page with the 2023 Don and Arvonne Fraser Human Rights Award for his life-long commitment to human rights. Justice Page has actively advocated for human rights, equality, and social justice throughout his career as a Supreme Court Justice, attorney, and professional athlete.
As an attorney and later as a justice on the Minnesota Supreme Court, he was known for his strong leadership on criminal justice issues, such as the need to reduce racial disparities in sentencing and address systemic inequalities in the legal system. He has long recognized the right to education, and he worked to include the right to education in the Minnesota Constitution.
Through the Page Education Foundation, Justice Page and his wife Diane have helped thousands of students of color in Minnesota pursue their dreams of higher education, providing not just financial aid, but also guidance and support. In 2018, Justice Page received the Presidential Medal of Freedom, the highest civilian honor in the United States, for his work in civil rights and education.