2023 Volunteer Awards: Christin Eaton and Linda Svitak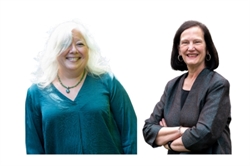 Date:
June 1, 2023
Country:
United States of America
Type:
Profile
Delicious food brings people together and connects us to our loved ones near and far. Linda Svitak and Christin Eaton are inviting new people to the table with their work on a cookbook that tells stories of resilience, hope, and celebration through recipes shared by clients and members of our immigrant communities in Minnesota. Through their work, Linda and Christin are building communities and understanding, one meal at a time.
STAY TUNED FOR THE RELEASE OF THE ADVOCATES' COOKBOOK!