1993-2002: Turning Rhetoric into Reality for Women's Rights
June 15, 2023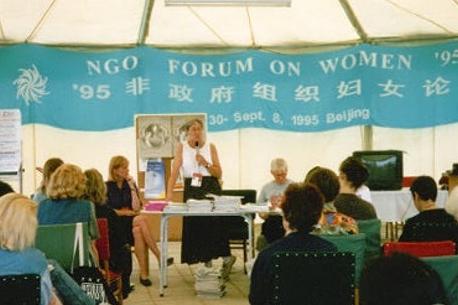 In 1993, and now known as Minnesota Advocates for Human Rights, a volunteer-led delegation traveled to Romania to investigate its response to domestic violence. Invited by a partner organization on the ground in Bucharest, the delegation spent weeks interviewing judges, lawyers, doctors, human rights groups, women's groups, students, and government officials about the Romanian government's response to domestic violence. Analyzing the findings through the lens of human rights, the groundbreaking report found that, by failing to respond effectively to domestic violence, Romania violated its international human rights obligations.

Invitations from partners in Bulgaria, Albania, and other countries soon followed, launching our Women's Human Rights Program. Human rights defenders took these reports and advocated for change in their countries.
So when, at the 1995 Beijing World Conference on Women, Hillary Clinton called for the world to recognize women's rights as human rights, Minnesota Advocates was ready to turn rhetoric into reality.
Today The Advocates continues to partner with a vibrant generation of women's human rights defenders who have created a movement to protect women from violence in countries throughout Central and Eastern Europe and the former Soviet Union.
Photo: Aviva Breen, part of Minnesota Advocates' delegation, presents at the NGO Forum in Beijing.