My Transformative Journey to the UN
July 13, 2023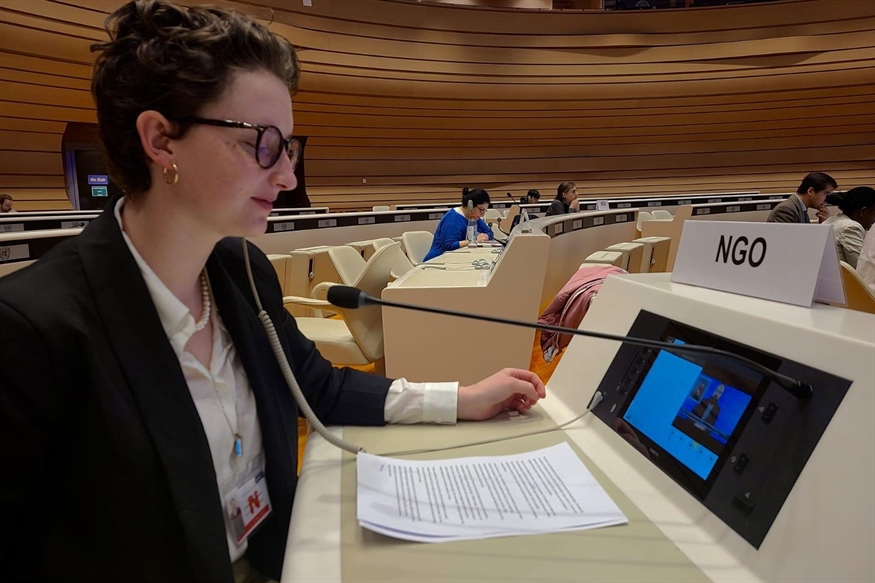 This spring, I found myself amidst the striking beauty of Geneva, Switzerland working with The Advocates for Human Rights. Our destination was the heart of international human rights discourse - the United Nations Human Rights Council. Here, hope and reality coalesced, presenting a world full of promise but not without its fair share of obstacles. The environment felt familiar, reminiscent of my time in Model UN, where harmonious collaboration and intense disputes go hand-in-hand.
I was privileged to stand before global dignitaries, delivering two significant speeches: a statement to the UN Committee on the Rights of Persons with Disabilities (CRPD) and the other to the full UN Human Rights Council (HRC), including the High Commissioner for Human Rights, the HRC President , and delegates from UN member States. On behalf of The Advocates, I vocalized the pressing concerns related to Russia's invasion of Ukraine and the war's impact on people with disabilities caught in the conflict, including the potential for disability-based persecution. I realized the power of my voice and the influence of non-governmental organizations (NGOs) in exposing and confronting human rights abuses.
Engaging in direct dialogue with HRC delegates on contentious topics like the death penalty, torture, and women's rights was equally impactful. Our team included international partners from Kenya, Trinidad and Tobago, Croatia, and Botswana. The Advocates staff taught us how to use their sophisticated system of prioritizing and securing meetings with country delegates, as well as recruiting attendees to The Advocates side event, a panel on the abolition of the death penalty. We came together as a powerful team, working effectively to accumulate research and set up critical meetings with HRC delegates to share information and recommendations in advance of the HRC's Universal Periodic Review of several countries. We also were able to meet with UN staff and brief members of several UN treaty bodies.
I appreciated the chance to use my personal experiences and skills, while learning from the team to make a meaningful difference in advancing human rights. I learned from our discussions about the prominence of conflict-induced problems that lead people to need to find resources or a place where people can freely express their concerns. Often it is only the human rights defenders in diaspora who are safely able to voice their concerns.
However, our time at the UN also revealed underlying systemic issues, including ageism, ableism, and racism, that exist within the institution. Challenges related to accessibility surfaced, particularly for older individuals and those with disabilities who had difficulty with being able to physically access the UN Office in Geneva. We also saw discrimination, unfortunately, in the way that some of the young people of color on our team were treated by UN Security. Despite these unsettling experiences, we witnessed promising steps towards greater inclusivity, such as providing opportunities for virtual participation, recorded video statements, and accommodations for the differently-abled, particularly by the CRPD.
My time in Geneva deepened my understanding of the role of in-person advocacy in strengthening civil society. Observing the respect garnered by The Advocates from UN staff and the significance of our work - from firsthand victim testimonies to presentation of extensive research and recommendations - was incredibly inspiring. These experiences reshaped my perspective, encouraging me to consider graduate school or law school as avenues to further my involvement in protecting human rights.
Ultimately, my journey as a volunteer with The Advocates was transformative. It imprinted on me the profound potential of international law and human rights norms, igniting my ambition to contribute to a world where justice prevails, accountability is upheld, and the rights of every individual are respected.
By Louise Rosenbaum, International Justice Program intern. Louise is a rising senior at St. Olaf College majoring in Psychology and Political Science, with minors in International Relations and Public Health. She also currently St. Olaf College Model UN President.