UN Gender Network: Understanding How Gender Impacts the UN's Activities and Leadership
December 28, 2017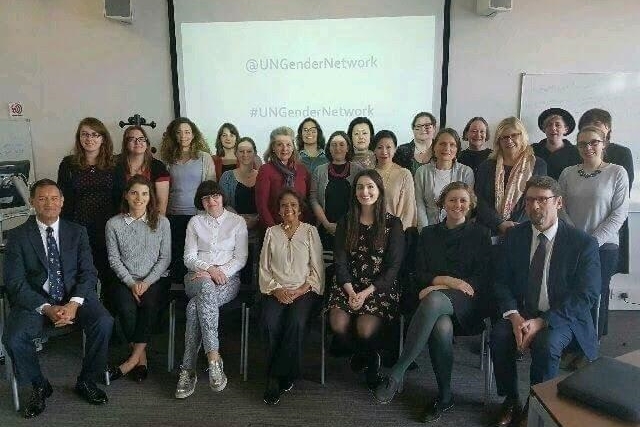 For the past year, The Advocates for Human Rights has been a core member of the UN Gender Network. Convened by the University of Reading and Durham University, the UN Gender Network is a unique project to foster dialogue and an understanding of gender equality policies within the United Nations. We seek to investigate how it impacts UN leadership on the Sustainable Development Goals, particularly Goal 5 on Gender Equality, and other policies. To do so, the UN Gender Network has brought together civil society, academics, UN former and current staff and government representatives over the course of three workshops to discuss these issues. A fourth workshop will take place in 2018 to launch the network's policy recommendations to the United Nations.
When I talk about the UN Gender Network, people are often surprised to learn of the need to scrutinize the UN on its own gender equality policies. But after all, if the UN is going to lead on women's human rights, it is important that it lead by example. The UN does not have one single gender equality policy applicable to each of its multiple bodies. Instead, the development and implementation of such policies are left to the discretion of individual bodies. The result: UN entities have very disparate policies or, in some cases, no policies at all. A 2016 UN Women report found that only 89% of UN bodies have a policy on sexual harassment, assault, and exploitation. Only 70% of UN bodies have a policy on discrimination, and just 67% have policies on anti-retaliation.
To examine this further, we engaged the pro bono services of Dechert, Fredrikson & Byron, Faegre Baker Daniels, and Stinson Leonard Street to map out the gender equality policies across all of the different UN bodies. Volunteers examined the spectrum of gender equality policies, including recruitment and appointment, facilitative policies, career advancement, harassment/discrimination, and separation policies. Initial findings reveal that while some UN bodies have strong, comprehensive gender equality policies, others are in many areas lacking or, where they do exist, tend to be more aspirational than effective. In other cases, good policies are in place but are not readily utilized by staff, indicating a need for ongoing monitoring. At its third workshop at Durham University this November, the UN Gender Network reviewed the draft recommendations it will make to the UN to advance gender equality priorities.
In September, UN Secretary-General Antonio Guterres issued a system-wide strategy to address gender parity within the UN this fall, signaling a commitment to the issue and to achieve parity by 2028 across all levels at the UN. The strategy marks a first step toward addressing gender equality issues within the UN, but it will take ongoing commitment and multidisciplinary engagement to push through effective reforms. To join the UN Gender Network or learn more, please visit https://blogs.reading.ac.uk/united-nations-gender-network/.
By Rosalyn Park, director of the Women's Human Rights Program at The Advocates for Human Rights