A Long and Far-From-Finished Journey
June 19, 2022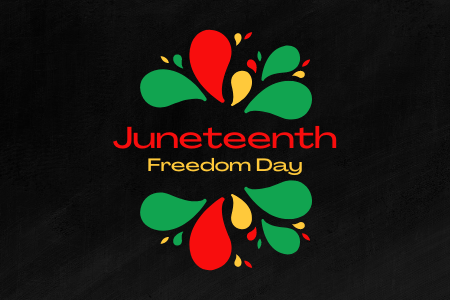 Juneteenth commemorates the day on which the Emancipation Proclamation finally made its way to the last groups of enslaved African Americans. On June 19th, 1865, two and a half years after the Emancipation Proclamation took effect, federal troops arrived in Texas with an order proclaiming freedom from bondage for all enslaved African Americans. General Order Number 3 was read, stating: "in accordance with a Proclamation from the Executive of the United States, all slaves are free. This involves an absolute equality of rights and rights of property between former masters and slaves, and the connection heretofore existing between them becomes that between employer and hired laborer."

While Juneteenth officially commemorates 157 years since the end of bondage, it also marks 157 years of racial discrimination and police brutality. Less than a month ago, on May 25, President Biden signed an executive order designed to address systemic racism in policing that violates the human rights of BIPOC communities. This executive order was signed two years after the entire world witnessed the murder of George Floyd, an African American man, by a white police officer in Minneapolis, Minnesota.

In 2014, the Committee on the Elimination of Racial Discrimination (CERD) called upon the United States to intensify efforts to effectively combat and end the practice of racial profiling by law enforcement. The Committee further urged the United States to undertake thorough and impartial investigations into allegations of racial profiling to hold those responsible accountable and provide effective remedies. Deeply troubled by continued U.S. failures, the Committee reiterated "its previous concern at the brutality and excessive use of force by law enforcement officials against members of racial and ethnic minorities, including against unarmed individuals, which as a disparate impact on African Americans..."
The May 25 executive order begins to tackle these concerns. It orders the attorney general to establish a National Law Enforcement Accountability Database. This database requires all federal law enforcement agencies to participate, will include records of officer misconduct, and will be accessible to the public. The executive order also requires steps to improve the investigation and prosecution of criminal civil rights violations, including directing the issuance of best practices for independent investigations. Additionally, it requires federal law enforcement agencies to adopt measures to promote thorough investigation and preservation of evidence after incidents involving the use of deadly force or death. Finally, it orders federal law enforcement agencies to adopt and publicly post body-worn camera policies that mandate activation of cameras during activities like arrests and searches and provide for the expedited public release of footage following incidents involving serious bodily injury or deaths in custody.
The United States continues to travel, and often stumble upon, a long and far-from-finished journey to full realization of equal rights unlimited by race. While there is so much more work to be done to combat racial discrimination, dismantle systemic racism, and end police brutality, this executive order is a step in the right direction. If implemented effectively, it will bring the United States closer to compliance with key international standards on police use of force.

The Washington Post began documenting fatal police shootings in the United States in 2015. Today that database includes details on 7,474 people shot and killed by police, with clear racial disparities: "The rate at which black Americans are killed by police is more than twice as high as the rate for white Americans."

Article 7 of the Universal Declaration on Human Rights states, "All are equal before the law, and all are entitled to equal protection against any discrimination." This is a non-derogable norm that countries must uphold. The United States, unfortunately, is failing to do so. As we commemorate this day, we must remember that Juneteenth was not the end, but the beginning of a long road to righting our country's wrongs and ensuring equality for all.
Aya Osman is an intern with The Advocates for Human Rights' Research, Advocacy, and Education team. She is currently in her second year at Albany Law School with hopes of pursuing a human rights law career upon graduating.