Return to summary
Take Action for Afghan Adjustment Act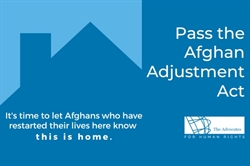 Date:
December 16, 2022
Country:
Afghanistan
Type:
Action
Issues:
Migrant Rights
After the Taliban took over Afghanistan, Afghans who had believed in and worked for the vision of human rights and democracy in their country faced serious and urgent harms. An extraordinary effort to evacuate them is still ongoing. But, most of the nearly 100,000 people who were evacuated to the United States hold temporary immigration status. This uncertain immigration future compounds the trauma of lost homes and families and risks returning people to face serious human rights violations.
Nearly one year after the evacuation, Congress has introduced the Afghan Adjustment Act (S. 4787 and H.R. 8685) with bipartisan and bicameral support. The Afghan Adjustment Act will:
Allow Afghans on temporary humanitarian status in the U.S. who submit to additional security vetting to apply for permanent legal status.

Expand SIV eligibility for Afghans who worked and served alongside U.S. forces, including members of the Afghan National Army Special Operations Command, the Afghan Air Force, the Female Tactical Teams of Afghanistan, and the Special Mission Wing of Afghanistan.
Establish an Interagency Task Force, led by the U.S. Department of State, responsible for creating and implementing a strategy to continue the relocation and resettlement of eligible Afghan partners from Afghanistan over the next ten years.

Require the U.S. Department of State to respond to congressional inquiries related to SIV applications or U.S. Refugee Admissions Program (USRAP) referrals.
Take Action!
Send a message to your congressional representative today to ask that they sign-on to co-sponsor H.R. 8685 and S. 4787, the Afghan Adjustment Act;

Call or write Senator Klobuchar to thank her for leading this effort;

Need more information or want to get involved? Contact lgreising@advrights.org.

The Afghan Adjustment Act is not yet law!
If you are a pro bono attorney with an Afghan case and wondering how this Act could impact your, contact our office.

If you are an Afghan and wondering about how this Act impacts you, BEWARE of scams. This is only a proposal in congress - it is not yet the law. You CANNOT APPLY for status under the Afghan Adjustment Act. Do not pay money to apply under the Afghan Adjustment Act until it is signed into law. If you need an attorney for an asylum case, contact us here.