Laura Cholula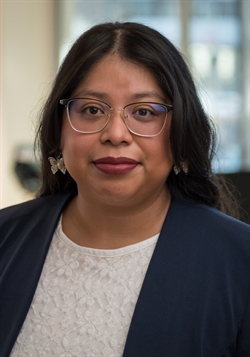 Programs:
Refugee and Immigrant
Laura is an Immigrant Justice Corps Fellow with The Advocates for Human Rights' Refugee & Immigrant Program. Laura's work focuses on assisting low-income clients in immigration matters with a focus on humanitarian protection for asylum seekers, human trafficking survivors, unaccompanied children, and detained immigrants.
Before joining The Advocates, she was a Peggy Browning Fellow at the New Orleans Workers' Center for Racial Justice where she assisted and collaborated in legal work with organizers that supported member-driven campaigns. In 2020, she participated in Northern Illinois University's inaugural COVID-19 Legal Response Clinic where she provided free legal advice and referrals, where appropriate, to community members. Laura was active in the Latinx Law Student Association and the Black Law Student Association. Additionally, she served as a graduate research assistant at the NIU Office for Undocumented Student Support. Laura graduated from Northern Illinois University College of Law in 2021. During her law school graduation ceremony, she was presented with the Marla Dickerson Graduation Award for the demonstration of her strong commitment to public interest law. Prior to joining the Advocates for Human Rights, Laura worked as an immigration law clerk for a private law office where she assembled filings, drafted motions & affidavits, and maintained communication with clients in removal proceedings.
During college, she joined both local and statewide efforts to organize for immigrant rights in Illinois. She was empowered by the Chicago-based Immigrant Youth Justice League to participate in and lead campaigns to pass pro-immigrant legislation in Illinois and to create institutional change for undocumented students at her campus. In recognition of her efforts, she received the 2017 Deacon Davis Diversity Award presented by the Northern Illinois University (NIU) Presidential Commission on the Status of Minorities. In 2018, she was the recipient of the 2018 Illinois Latino Council on Higher Education (ILACHE) Emerging Leader Award.