Pamela Guerrero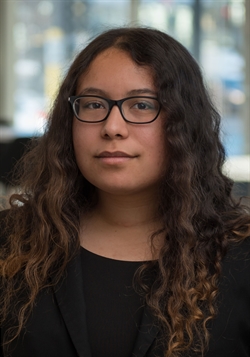 Programs:
Refugee and Immigrant
Pamela is an Immigrant Justice Corps Fellow with The Advocates for Human Rights' Refugee & Immigrant Program. Her work focuses on supporting low-income clients in immigration matters with a focus on humanitarian protection and other legal remedies for vulnerable immigrant populations.
Pamela graduated from the Elisabeth Haub School of Law at Pace University, where she served in the Pace Immigration Justice Clinic, the Pace Hudson Valley National Lawyers Guild Chapter, the Pace International Law Society, and the Pace Law School Board of Diversity and Inclusion. She also contributed as a legal research assistant for Professor Vanessa Merton, who focused on T and U Visas, and Professor Smita Narula, who focused on climate trauma, while attending Pace.
Before joining The Advocates and attending law school, Pamela served as a Project Manager for Nonviolence International – NY where she produced articles on sustainability and peace measures. She later honed her outreach ability while working as a Fundraising Development Intern for OneTrack International. She utilized the skills she gained from both positions in service to recently arrived international students when working as a bilingual tutor and carried these skills over to serve as a student advocate at Pace.