Eswatini - Universal Periodic Review - Death Penalty - March 2021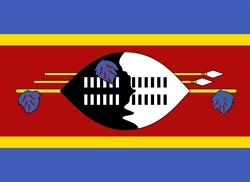 Date:
March 25, 2021
Document:
Eswatini UPR Death Penalty (PDF 286.1 KB)
Country:
Eswatini (formerly Swaziland)
Type:
Intl Mechanism Submission
Issues:
Death Penalty
,
International Advocacy
Mechanism:
Universal Periodic Review
Report Type:
Stakeholder Report
The Advocates for Human Rights, together with The World Coalition Against the Death Penalty, submitted a stakeholder report relating to the death penalty in Eswatini for the 39th session of the Working Group on the Universal Periodic Review.

Eswatini retains the death penalty, but has had a de facto moratorium on executions since 1983. Since then, 45 people have been sentenced to death, and 44 of those death sentences have been commuted to life imprisonment. Eswatini courts have not handed down new death sentences since 2016, but one individual remained on death row as of the end of 2019.Eligible crimes on the books include convictions where the defendant has not committed an intentional killing, such as treason. Although Eswatini is a party to the Convention against Torture and Other Cruel, Inhuman or Degrading Treatment or Punishment, law enforcement continues to use torture, as an investigative tool. Prison conditions do not always meet international standards due to overcrowding and facilities requiring repair or modernization. While the judiciary displays a degree of independence in some cases, the King can influence the judicial-making process. This includes pressuring the judiciary to qualify as treason conduct that involves criticism of the monarchy and thereby resulting in a potential death sentence.
The authors of the report suggest the following recommendations for the Kingdom of Eswatini:
Abolish the death penalty and replace it with a sentence that is fair, proportionate, and in compliance with international human rights standards.
Ratify the Second Optional Protocol to the International Covenant on Civil and Political Rights and the Optional Protocol to Convention Against Torture.

Prohibit courts from considering evidence obtained through torture or other forms of cruel, inhuman, or degrading treatment.

Ensure that officials at the highest level publicly condemn torture by state agents and adopt a more rigorous policies and procedures regarding torture.

Take concrete measures to strengthen the independence of the judiciary and to prohibit the monarchy from influencing judicial proceedings.

Ensure that all human rights defenders are free to express criticism of authorities and the monarchy, consistent with the country's obligations under the International Covenant on Civil and Political Rights.