Return to summary
Liberia is Not Ready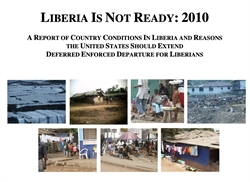 Date:
January 1, 2010
Document:
liberia_is_not_ready_2010_2.pdf (PDF 3.0 MB)
Country:
Liberia
Type:
Report
Issues:
Asylum
,
Diaspora Engagement
,
International Advocacy
,
Migrant Rights
Highlights reasons the United States government should extend Deferred Enforced Departure (DED) for Liberians, which expired on March 31, 2010. The report argues that conditions in Liberia make forced return a dangerous and ill-advised option. Instead, the report recommends that the U.S. government act immediately to ensure Liberians are not deported.