Energy of a Nation: Immigrants in America - A Teaching Guide for Grade 8 through Adult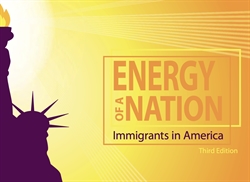 Date:
September 4, 2012
Document:
Energy of a Nation: Immigrants in America, 3rd ed. (PDF 13.6 MB)
Country:
United States of America
Type:
Educational Resource
Issues:
Migrant Rights
This curriculum is a distinctive, comprehensive guide to teaching students about immigration in the United States. Designed for grade 8 through adult audiences, with a module for upper elementary and middle level students, this learning tool provides important fundamental concepts, as well as critical context to elevate students' basic understandings and expand their perspectives. Lesson plans include engaging activities, handouts, fact sheets, PowerPoints, and other materials.
Topics covered include:
Root causes of undocumented immigration;
The complex realities of removal through the immigration courts;
Other countries' experience with, and response to, immigration;
Nativism and public discourse around immigration;
Push and pull factors that cause people to move;
The special case of refugees and asylum seekers;
The human rights of immigrants;
Local and national U.S. policy considerations; and
Service learning opportunities to create a welcoming environment.