Return to summary
The Advocates Night at Jungle Theater's THE COURTROOM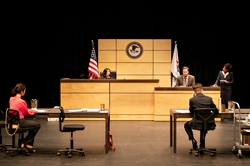 Date:
June 28, 2023 6:00pm
Type:
In Person
Issues:
Legal Representation
,
Migrant Rights
Arranged by Tony nominee Arian Moayed, THE COURTROOM tells the real-life story of an immigrant from the Philippines who faced deportation after inadvertently registering to vote while applying for a driver's license.
Join The Advocates for Human Rights on June 28 for a reception before the show and a discussion following the performance.
Pay-as-you-are tickets available at Jungle Theater.
For those interested, please see more about our CLE here.
Photo by Lauren B. Photography courtesy of the Jungle Theater